Ready for a tour with Ankita? Loosen up your belts and get ready to tuck in—you're about to discover everything from the traditional Marathi breakfast of ladi pav (fluffy white buns) to the tangy south Indian import, sambhar. Many of these dishes made from scratch are vegetarian.
Anna Idli & Medu Vada
One trip to Mumbai will dispel the myth that idli-dosa is only popular in the South of India. You have countless stalls selling piping hot breakfast, Southern-style. My favourite is Anna Idli & Medu Wada. You get the most perfect crisp vada and the sambar here. It is located right outside MMK College, Bandra, so you can imagine how popular it is with youngsters.
The Chaat Wala of Khar
Outside Saroj Fabrics in Khar, there is a chaat stall which deserves dozens of repeat visits. They have different types of chaat but for me, the must-try is their dahi puri, sev puri and papdi chaat. Definitely the best in town! All the chaats are balanced and wonderful. They have the right proportions of spicy, sweet, and salty tastes, contributed by the green chilli chutney, khajoor chutney, and crisp sev.
Mumbai Street Food: Rajesh Corn Corner
This unique place sells only different types of corn and baby corn dishes which are tasty as well as very filling. Guess what: they have over 100 flavours! Located in Jawahar Nagar, Goregaon West, the mega-popular stall has everything from salsa corn to pizza pasta corn and mayonnaise garlic chilli cheese spread corn.
Mumbai Street Food: Shankar Vada pav
The speciality of Shankar Vada Pav is that they do not use onions or garlic in any of their chutneys or even in making the vada. Some years ago, they had a massive fire but recovered well from it. Their moong dal vada and vada pav are really tasty. This is truly a hidden gem.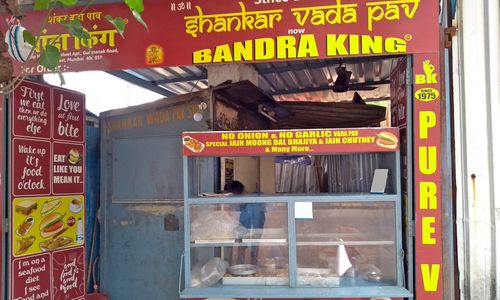 Litti Chokha
This one came as a surprise. How often do you get traditional Bihar food in the lanes of Navi Mumbai? I found this tiny joint serving piping hot Litti Chokha, It is made from brinjal like how baingan ka bharta is and is eaten with the batti from dal batti. The batti has a stuffing of litti. It's called Litti Chokha as Litti is the filling inside, the filling is called sattu. It is served with zesty green chutney, which makes the perfect match.
Mumbai Street Food: Chand Tikka Point
Chand's Tikka Point sets up a stall every evening at 7 pm outside a mobile shop on Carter Road. It is always swamped with people waiting to get their hands on his signature Tikka Roomali Rolls! So get ready to wait for a while if you want 'em to.
Every day for almost a decade now, a sigdi is set up on a small table, where you can see your marinated, lip-smacking tikkas getting freshly grilled. Once you take your pick from his menu, he examines them and stuffs the filling inside a homemade roomali roti, with onions, green chutney and masala. There are many options for both vegetarians and non-vegetarians. The best part is that he grills veg and non-veg food separately and even uses separate tools for it. You can choose from various options like Paneer Pahadi Kabab Roll or Mushroom Kalimiri Kabab Roll. For chicken lovers, there is Chicken Afghani Kabab Roll or the good ol' Chicken Tikka Roll. I personally love his Paneer Tikka Roll, with extra onions!

Conical Gaufres Waffles
Conical Gaufres is one of the best places for waffles. It is very affordable, starting from Rs.50. They have yummy stick waffles dipped in chocolate. Their waffles are a perfect combination of crispy and soft. They get your toasted waffle hot out of the pan, put it on a stick and dip it in Chocolate Brownie or Caramel Delight or Oreo Cookie Crumbles. You can pick from their Original Sticky Toffee flavour or Blueberry, Milky Bar or Sweetie. If you are feeling rather indulgent, the Conical Gaufres Special Waffle is also an option.
We hope this little tour made you hungry! If you visit these stalls, don't forget to tag us @travelsecretsmagazine.
Ankita Patel spoke to Priyanka Sinha from Team Travel Secrets
Latest Posts