By Tanya Anand
In Gujarati, "Agashiye" means "on the terrace." And that's where we sat on a balmy evening, enjoying exquisite regional food.
The House of MG was the residence of a prominent Gujarati businessman, Mangaldas Girdhardas. The 200-year-old haveli is now a family-run heritage hotel. It is here you will find the sprawling Agashiye restaurant: mega popular and always busy, with several awards tucked under its well-fed belt.
The House of MG has two huge terraces interconnected by a small one that houses a wooden cottage. The dim lighting and architectural splendour transport you to another time and place.
The food is served in two different formats, Heritage Grand and Heritage Classic, in Silver and Kansa thalis respectively.
The staff—mostly men from neighbouring villages, lead you to the waiting area where you are given a welcome drink and starters such as methi dhokla and bondas.
Next up, a server dressed in Gujarati attire brings a water mug and a small basin for you to wash your hands. This is followed by an endless stream of delicacies brought to your table – salad, a pickle platter, a huge thali, pappadums, chaat, and a glass of chaach.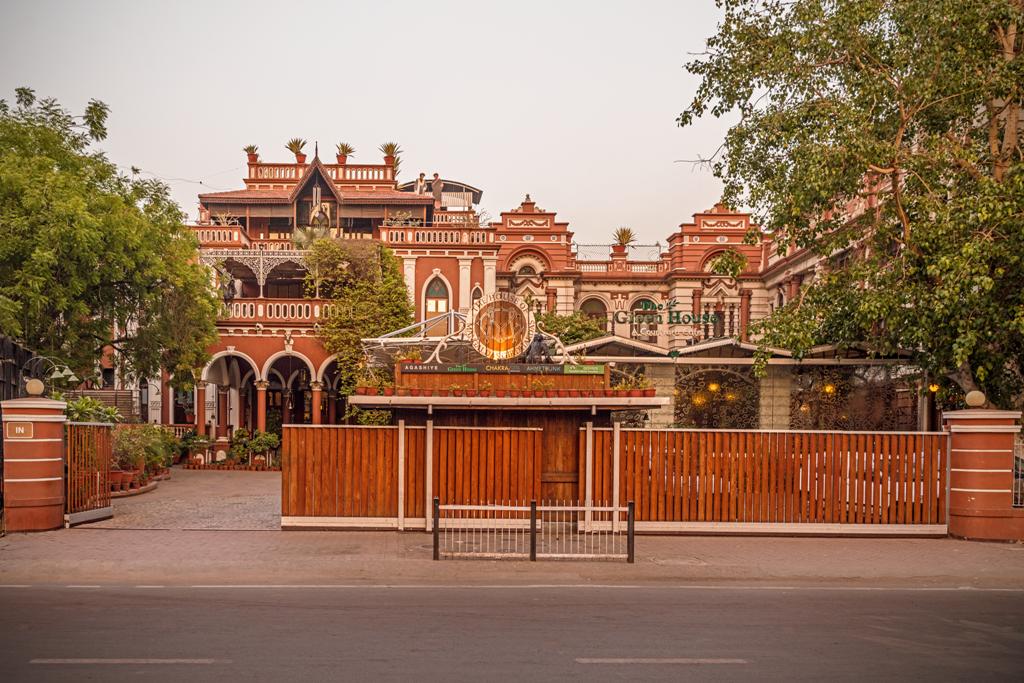 Specialities
The servers (whose sole mission is to make sure you pile on more kilos), keep checking on you at regular intervals without being intrusive. The feast culminates with paan and ice cream served with two gooseberries. The undiya -a mix of 15 seasonal vegetables, and the kadi (both dishes included in the thali) were excellent. The homemade guava ice cream was fresh, and we enjoyed it immensely. When you visit, they may serve you something totally different as their menu changes every day as well as seasonally.
No matter how little time you have in Ahmedabad, don't miss a meal at this place. You won't regret the decision; the House of MG, Ahmedabad is truly a memorable experience!
The House of Mangaldas Girdhardas: Opp. Sidi Saiyad Jali, Lal Darwaja, Ahmedabad-380001
Check out our other recommendations for attractive restaurants in Ahmedabad:
One of the loveliest Rajasthani-themed village restaurants, with performances by folk artists and delicious food.
A Gujarati- Rajasthani-themed restaurant with rural touch and an exquisite place for food indulgers.
A masterpiece where artists and chefs create magic hand in hand. Looking for an inspiring ambience and quality food? This is the place you want to be.