By Deepti Duggal
Most people tend to tick off Delhi's key attractions on the fingers of both hands. Red Fort, Qutub Minar, Lotus Temple, Lutyens Delhi, and if you are more adventurous, a street food tour of Old Delhi.
But look a little closer, and Delhi will reveal to you its secret gems, still shining from its days as the site of mythological wars and foreign rule. The glitzy metropolis is home to some lost, forgotten structures that take you back in time.
So, come with us on a tour of 7 monuments that are sitting right in the heart of the capital but still quite unknown. Each of these ancient beauties boasts its own story and charm:
Bijay Mandal
Location: Sarvapriya Vihar, Block 4
Alauddin Khilji, who ruled Delhi in the 14th century, built Bijay Mandal. He left it unfinished, and the eccentric ruler Muhammad Bin Tughlaq completed the construction. Today, the monument sits in the midst of a posh South Delhi colony. The structure sits on a raised platform which is surrounded by another platform. The ramp on the side leads to an octagonal pavilion from where you can see the whole city. Looking at it today, it is difficult to believe that this was once a "thousand-pillared palace" where an emperor lived. Walk up to the tomb and you get a glimpse of how gifted those craftsmen were.
Chor Minar
Location: Hauz Khas
Chor Minar is an isolated tower in the posh locality of Hauz Khas. Today, it offers no clue to its gory history, but you will shudder to learn what happened here. Built in the 13th century by Allauddin Khilji, "Chor Minar" means "Thieves Tower" and this was where criminals met their brutal end. Little is remarkable about the stumpy tower today, except the 225 holes in its walls. These served a chilling purpose: they displayed the severed heads of criminals, impaled upon spears. The idea was to discourage crime, and probably worked well! Today the area has lush green gardens where people spend their evenings; most of them don't know the horrific story of this tower.
Azim Khan Tomb
Location: Mehrauli Gurgaon Road
This surprisingly well-preserved tomb belongs to a person called Azim Khan who many historians think was a general in Emperor Akbar's army. Visible from miles away, the tomb is a beautiful piece of architecture atop a hillock. It stands on a stone plinth on rocky ground. You can enter the dome through a doorway to the north. Although the grave has disappeared, the structure has beautiful work on its arches and alcoves, with features like finials and kagura designs. The square-shaped dome is topped by an inverted lotus finial and has the most amazing patterns on its arches.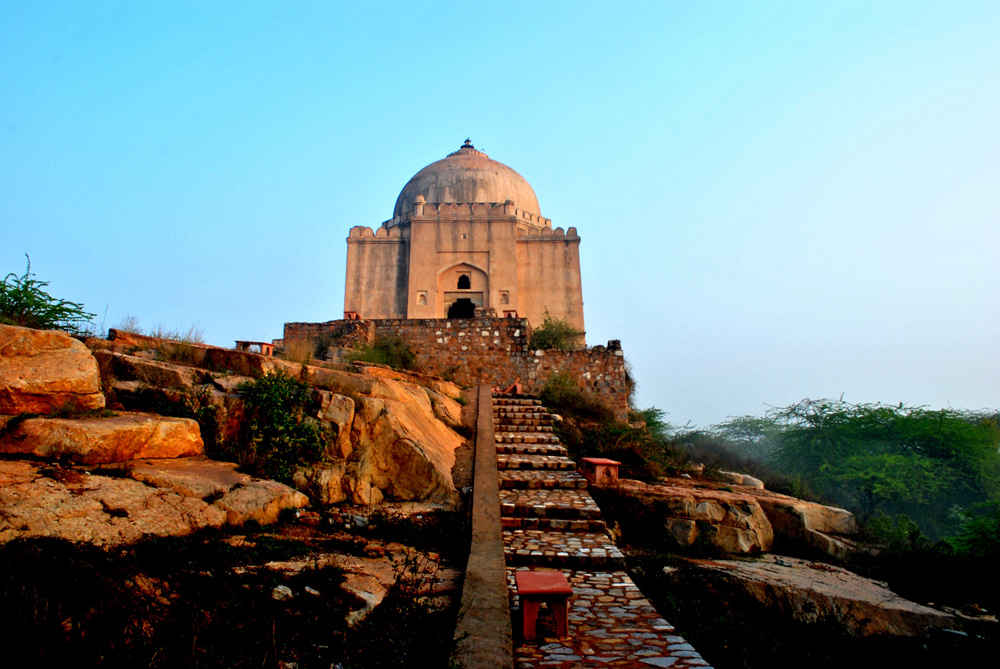 Qutub Sahib Ki Dargah
Location: Mehrauli
This dargah is a true hidden gem. It belongs to Qutbuddin Bakhtiyar Kaki, a disciple of Khwaja Moinuddin Chishti of Ajmer. It has the grave of Qutb Sahib in the middle of a rectangular enclosure. The dargah has many other structures like the assembly house, robe chamber, mosque, tanks, and several gates. It also has the graves of many Mughal Emperors. Make a wish here and tie a thread near the grave; they say you will get your heart's desire.

Hastsal Minar
Location : Hastsal Village – Nangloi Jat
This is a masterpiece of craftsmanship that now stands isolated and in ruins. This tower, found in the present-day area of Nangloi Jat, was a hunting lodge built by Emperor Shahjahan, though some historians date it as far back as the 12th century, the era of Hindu king Prithviraj Chauhan.Unfortunately, there isn't much information about the 17-metre-high minar. It was much taller in the past and originally one could go inside and climb the stairs too. People believed that there was an underground tunnel that connected it to a palace, but none of those can be seen today.
Khirki Masjid
Location: Khirki Village, Malviya Nagar
Khirki means windows. This mosque sits in the pulsating heart of Delhi, a stone's throw from one of the city's poshest malls. It was built by Junan Shah and has 81 domes, 180 columns, and 15 praying arches. One of the unique things about this mosque is that it's fully covered, which was a rare thing during that era of the Tughlaq dynasty. The mosque has a mix of Hindu-Islamic architecture, another rarity in those days. It is a beautiful structure that must be on your list of places to see in Delhi.

Tomb of Razia Sultan
Location: Turkman Gate
Razia Sultan was the first female ruler of Delhi and her tomb is located near the famous Turkman Gate in Old Delhi. One has to cross narrow alleys and crowded lanes to reach this tomb, which is erected on a raised platform in an open courtyard and consists of four walls without a roof. The platform has the graves of Razia Sultan and her not-so-popular sister Shazia. What is mysterious are two more graves on the southwestern side whose identity is unknown. Built by Razia's brother Behram Shah in the 13th century, this is one place about which locals will tell you interesting stories.

We hope you enjoy going to these places! If you visit them, don't forget to tag us @travelsecretsmagazine on Instagram and use #1milliontravelsecrets.
If you liked this article, be sure to check out 6 Unmissable Spots in Shimla