By Shubhra Krishan
I recently stayed at two Grand Mercure properties in Bengaluru. The first is called Grand Mercure Bangalore. Located in the middle of Koramangala, a leafy residential neighbourhood, it is a fairly decent if somewhat somnolent hotel. If you're looking for an extended stay, mostly on business, this would be a good pick.
I next checked into the Grand Mercure Gopalan Mall. This Accor property is located in a buzzy part of Bengaluru, ideal for exploring the city's zillion pubs, shops and cultural attractions while also enjoying a luxurious stay. The hotel is close to Indiranagar, and a short walk from a metro station.
Gummed together with Gopalan Mall, which I did not have the time to check out, the hotel presents an imposing facade.
You enter, and the lobby treats you to wonderful sculptures, with a sleek cafe arching on the side. Part Karnataka culture, and part contemporary cool, the hotel stays faithful to this fusion-oriented theme everywhere, be it the decor or the food.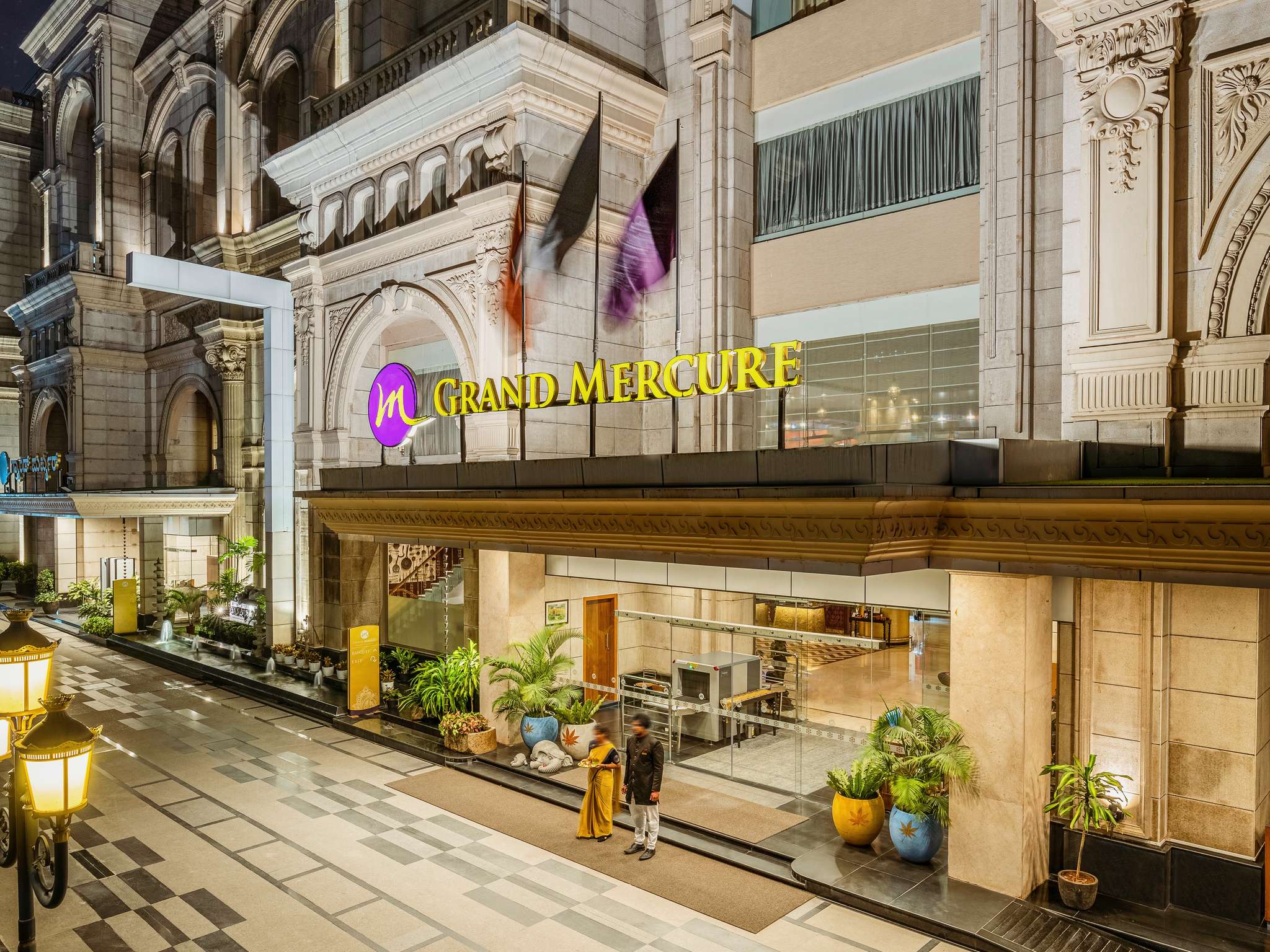 Hoysala-era royal jewellery has inspired the hotel's interior design, which features brilliant splashes of colour everywhere. The pillars in the lobby are gold washed and there's an art exhibit that encourages local artists from all around the state to display their work. The delicate scent of Mysore sandalwood and vetiver is in the air.
I am escorted into my well-appointed suite, featuring a living room, kitchenette, and a large patio. A tub invites me to relax in the luxurious bathroom.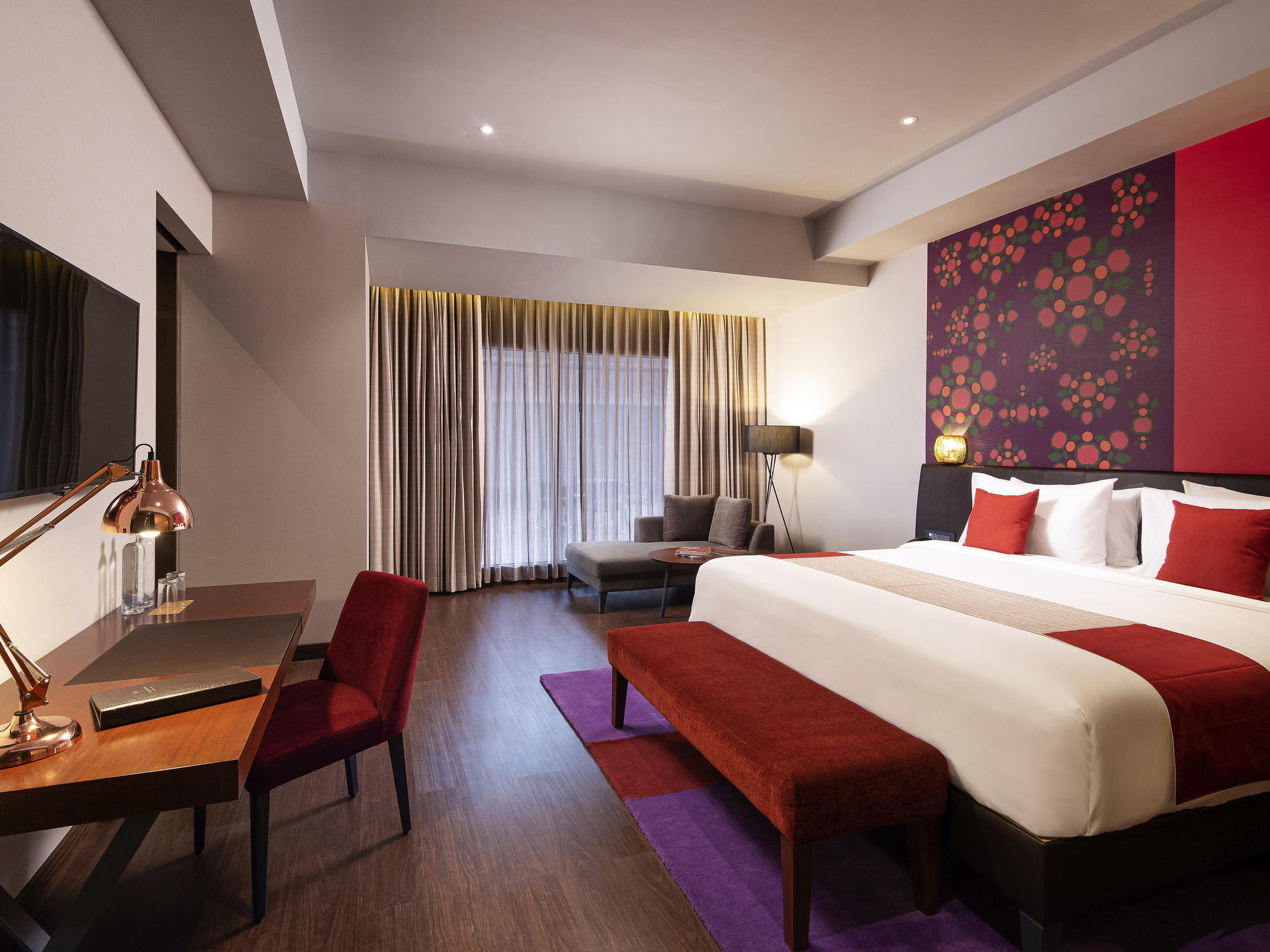 During the two days I stay there, not one annoying glitch, no reason to call housekeeping. Everything works just perfect, every little need is taken care of, which is more than I can say for many hotels.
The hotel's newly-minted Executive Chef, Vinay Kumar, oozes enthusiasm, and his passion for perfection reflects in the incredible meal I enjoy at their spacious La Utsav restaurant in the company of my friend, Meenakshi Gupta of TanhaDil.in.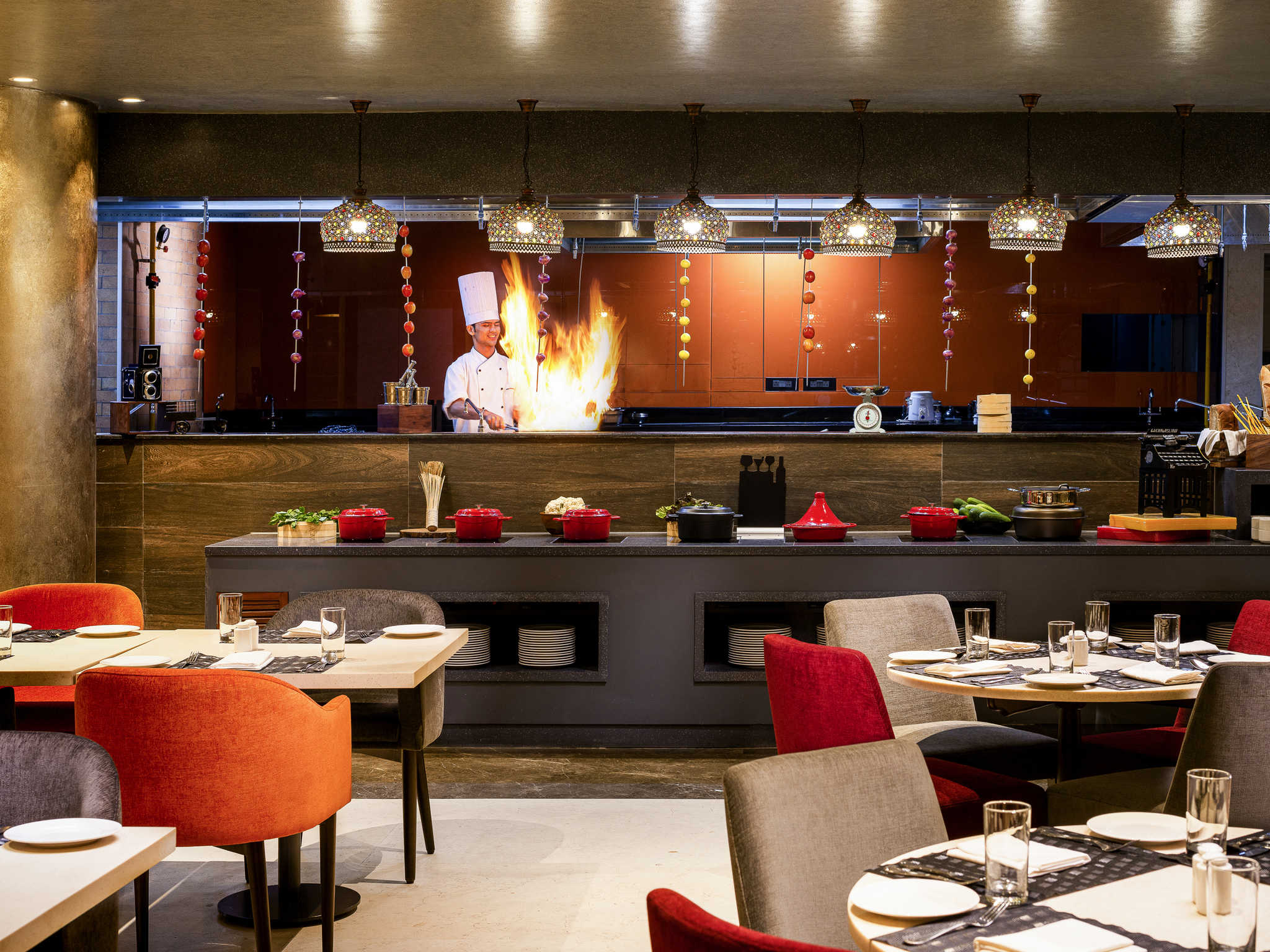 The wholesome Kerala thali is a symphony of incredible flavours, but the A-lister here is the flaky Kerala parota, served with egg roast. Totally transports you to heaven! At breakfast, I get to try something new—moong dal pesarattu dosa with an upma filling. Healthy and delicious! Don't miss their crisp and spicy Mysore dosa, too.
If we're talking Karnataka, how can coffee not feature in our conversation! Yes, they serve the best of filter coffee, with beans sourced from the oldest organic plantation in Yelligudige, Chikmagalur, and served in a traditional dawra. But the story doesn't end there. The hotel's lobby café – 1026 AD – offers a 90-minute experience that takes you on a fascinating java-flavoured journey across the world—the menu includes a wide range of local favourites as well as specialty coffees such as Vietnamese, Turkish, Chemex, and vacuum coffee, which is an absolute treat to watch!
The library lounge on the executive floor is a book lover's delight. I found a wide and interesting variety there, and spent a leisurely hour browsing to my fill in the serene space.
They have a terrace gym & spa and an entertainment zone, which I'll keep time for next time.
The best for the last: their innovative welcome drink: super-refreshing!
Restaurant Manager Prashant Tiwari generously shared the recipe with me:
Rasam Mary
60ml tomato juice
90 ml cold tomato rasam
1 dash Worcestershire sauce
salt to taste
Freshly ground black pepper
2 dashes Tabasco
1 fried red chilli, for garnish
All in all, I loved my experience with Grand Mercure Bengaluru at Gopalan Mall and would book it again without hesitation the next time I am in Bangalore. Five shining stars!
with inputs from Drisya Fernandes
Pictures from: all.accor.com
Latest Posts :