By Vaidehi Nanivadekar
How far would you go for the sake of love? To great lengths, sometimes. In 2011, Samir Somaiya and Amrita Somaiya opened the doors of their passion project Kitab Khana. After several plot twists—the pandemic and a massive fire—later, the bookstore is today back to its former glory, and book lovers like me couldn't be happier.
Right across from the lovely Flora fountain, Kitab Khana, Mumbai is India's answer to Paris's Shakespeare & Company, and London's Daunt Bookstore.
This bibliophile's escape is housed in Somaiya House, one of the oldest buildings with colonial architecture in Mumbai. Every time you enter the place you are greeted with a cheerful 'Namaste!' and the welcoming aroma of coffee pulls you further in.
The sight of so many bookshelves surrounding you is very comforting. They have carefully placed a variety of books throughout the store. True to its vision of keeping books affordable for everyone, Kitab Khana offers a flat 20% discount on all books. You can pick one as per your mood and read to your heart's content.
The cafe at Kitab Khana is now managed by Subko Coffee, which means you get to pick from a fantastic menu. Try their Turmeric Toast with Paneer and Lavender Cold Brew. My own favourites are the Subko Strawberry Cruffin and Peppermint Mocha Iced Tea.
The walls of Kitab Khana are festooned with quotes and sayings by literary celebrities like Robert Frost and Rumi.
The woods are lovely, dark and deep, But I have promises to keep, And miles to go before I sleep…

Robert Frost
They have sections on health sciences, architecture, and modern art, which are a must-explore. This passion project has been a beloved happy place for readers, writers, artists, and performers since 2011 in a heritage structure over 150 years old.
The vintage wooden staircase in the store makes a squeaking sound when you climb up the stairs. I can't help but love that feeling when the climb up the stairs. The place looks so alive and wise with handpicked and curated books adorning the shelves.
A powerhouse for artists indeed!
Kitab Khana has always been my go-to place for self-discovery and inspiration. This place gives me a sense of belonging the moment I step inside the door. I have seen strangers turn the pages of books with absolute care as if handling a baby, I have seen people sniffing the new print of the book and smiling at themselves.
Kitab Khana is a paradise for bestsellers in local languages too. Gujarati, Marathi, and Hindi have their very own sections here.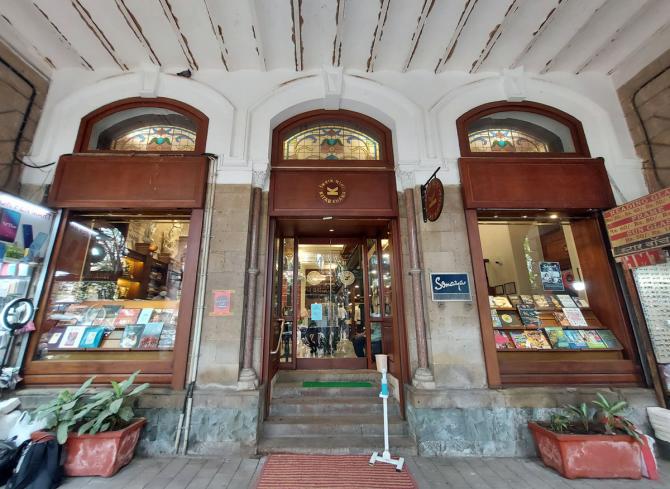 If I am looking for some specific book and can't find it around, I can post a request on their web portal. The store also offers gifting services— you can get your logo added to a book or get gift vouchers for your company, family, and friends.
Store Timings
10.30 am – 7 pm, open daily except on January 26, May 1, August 15, October 2
Latest Posts